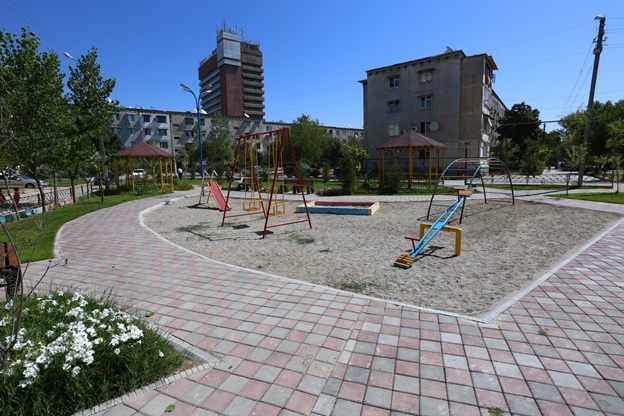 In pursuance of the instruction of the Government of the Republic of Tajikistan, a sports ground was built in the shortest time by the Agency on Public Procurement of Goods, Works and Services under Government of the Republic of Tajikistan on Negmat Kababaev Avenue, the 46th microdistrict.
Construction works of this site began on March 17, 2017.
In accordance with the approved project, the total area is 0.196 hectares, including a sports area of ​​540 m2, children's games of 320 m2.
This object has a children's playground, a sports ground, flower gardens with beautiful flowers, as well as gazebos for recreation, paths with wooden benches.
At the same time, a gazebo measuring 15 by 8 meters was additionally built for the events. The construction of the sports ground was completed and put into operation on June 12 this year.
The Mayor of Dushanbe city, the esteemed Rustam Emomali and the Prime Minister of the Republic of Tajikistan, the esteemed Kohir Rasulzoda, visited this site and positively assessed the quality of the construction works.